Traveling can be a challenge in itself. Traveling while having a new born at home can be very hard for new mothers. Even more so, while they are pumping.
Nissan is the first automaker to offer the milk shipping service, Milk Stork, for its employees traveling in the United States and Canada.
"We are thrilled to have Nissan as our first corporate partner in the automotive industry," said Kate Torgersen, founder and CEO of Milk Stork. "By providing the Milk Stork service to its employees, Nissan is not only supporting women during one of life's greatest transitions, but also acknowledging the professional accomplishments and contributions made by working mothers."
What is Milk Stork?
Milk Stork makes traveling easier when breastfeeding. Their service prevents mothers from wasting breast milk by having to discard it while traveling. Milk Stork is the only breast milk shipping company in The United States.
No need for mothers to have to stock up on frozen milk or needing formula for when they are away.
Weaning a baby off breast feeding should not feel forced because a mother needs to travel for work. Milk Stork allows for a mother to wean when they feel it is right.
Milk Stork is convenient. There's no need to have to deal with carrying the milk in soggy cartons, risking it spoiling, or melting freezer packs.
How Does it work?
A Milk Stork cooler is shipped to your hotel, and can be available upon arrival. Once a mother is done being pumped it can be packed directly into the cooler.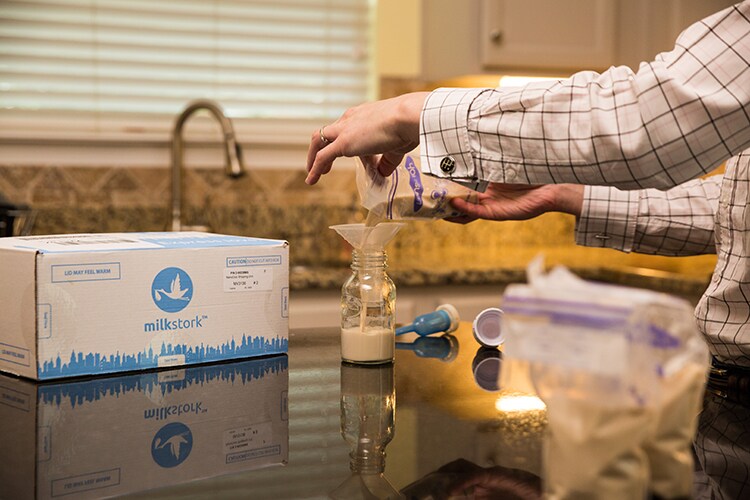 The cooler has an internal mechanism that, once activated, keeps its contents chilled for up to 72 hours.
Once ready to ship, the employee simply drops the cooler off at the hotel front desk or any FedEx shipping location to be overnighted to their baby.
Once the cooler is shipped you can get email notifications once it has arrived at your house.
"New moms returning to work have an added stress of managing their work-life balance," said Michelle Baron, vice president, Human Resources, Nissan North America. "The breast milk shipping program allows Nissan to support mothers in this stage of life and alleviate some of their worries."
So a Nissan employees who are nursing their children and traveling for work can now expense milk-shipping costs as a new benefit!
Nissan also allows its employees to pump in mother's rooms, along with flexible work schedules, and "welcome back kits" for new parents.